Bulgogi Tacos with Kimchi Coleslaw
Looking for an exciting new way to enjoy our kimchi products? Try out a fusion favorite with our Bulgogi Taco recipe using our traditional napa cabbage kimchi to create fresh and delicious Kimchi Coleslaw. These tacos are perfect for creating a unique dinner spread for any occasion!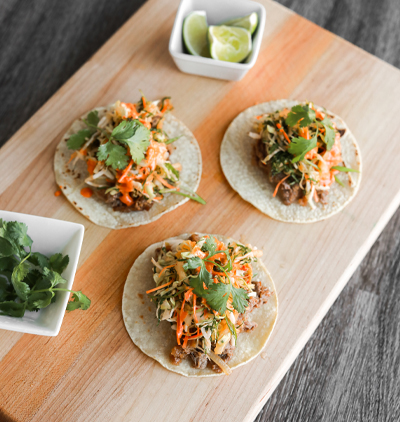 1-pound ribeye, thinly sliced
1/4 cup kimchi, cut into matchsticks
1 cup green cabbage, sliced thin
1/4 cup carrots, peeled and cut into matchsticks
2 green onions, sliced thin at a bias
6 sesame leaves, rolled up and sliced into ribbons
1 tablespoon toasted sesame seeds
8 flour tortillas, toasted lightly
Lime wedges
Picked cilantro with stems
1. First, combine the beef with the marinade ingredients. Cover and let sit in the refrigerator overnight or for at least 2 hours.
2. Prepare your coleslaw by combining the kimchi, carrots, cabbage, sesame leaves and green onions in a medium bowl. Save some of the sesame leaves and green onions to garnish the tacos with.
3. To make the gochujang aioli, whisk together all ingredients besides the mayo until well combined. Then, fold in the mayo with a rubber spatula. Season with salt if necessary.
4. Preheat a large non-stick frying pan to medium-high heat. Remove the beef from the marinade and dry lightly with paper towels. Season well with salt and pepper.
Working in batches, sear the slices of beef and cook off any extra liquid that forms in the pan. Once all of the liquid has evaporated, remove from the pan and reserve.
5. Serve with toasted tortillas, kimchi coleslaw, gochujang aioli, lime wedges and cilantro.
Recipe Notes:
-Ribeye can be substituted for chuck or any other beef as long as its sliced thin.
-The gochujang aioli and coleslaw can be made in advance. They will both typically be more flavorful as they sit and develop flavor!
Marinade Ingredients:
¼ yellow onion, sliced thin
½ cup soy sauce
2 tablespoons brown sugar
1 tablespoon toasted sesame oil
3 large cloves garlic, smashed
½ Korean pear, grated
1 kiwi, grated
Gochujang Aioli:
½ cup kewpie mayo
2 tablespoons gochujang
½ tablespoon doenjang
1 tablespoon rice vinegar
1 tablespoon rice vinegar
1 teaspoon soy sauce
1 teaspoon sesame oil
1 teaspoon white sugar
1 clove garlic, grated on a zester
1 green onion, white only, grated on a zester
Open EveryDay
8AM – 4PM Weekdays