In The press
Cosmos Food Company Press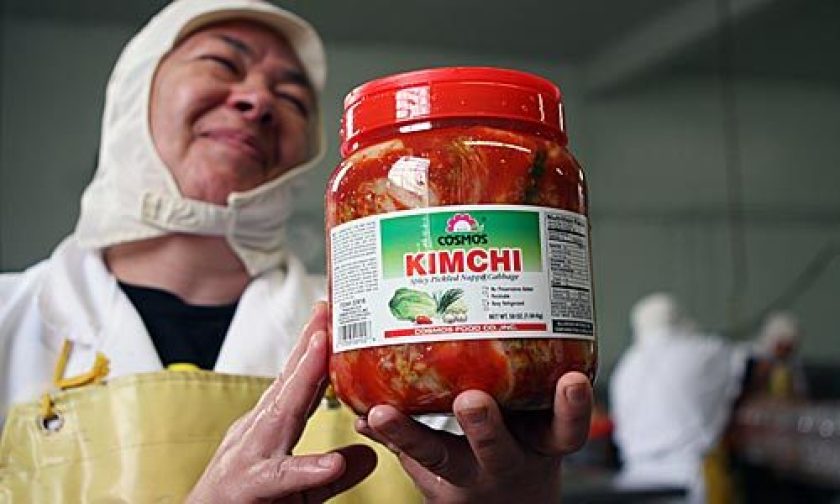 "Cosmos Food Co., Fermenting Revolution with it's kimchi"
David Kim insists it tastes like his mom's. He says despite machines that rumble as they chop and wash and mix and label, his factory-produced kimchi can compete with what appeared on the table after his mother spent hours laboring over wilted cabbage and anchovy-laden pepper paste on her kitchen floor in Seoul.
Of course, his mother doesn't make kimchi anymore, now that her son owns Cosmos Food Co., which every day bottles 8,000 pounds of the spicy side dish that accompanies Korean meals.
For nearly 40 years, Cosmos — named after the flower — has been mass-producing kimchi at its 9,000-square-foot factory north of Elysian Park. The original owners were women who founded the business in 1971 and provided for a small Korean community that was slowly gaining a footing in Los Angeles. As three other owners came and went, Cosmos grew along with the Korean population.
How Cosmos Food Brought A 'Fermenting Revolution' And New Kimchi Ideas | NBC Asian America
The Korean Cuisine Staple Now Catching On In Western Markets
A classic staple Korean dish is surging in popularity across the U.S. – this as many consumers are discovering Kimchi's health benefits. For years, Scott Ervin has baked bread in his kitchen. Now he's learning to master something new – the Korean dish of kimchi. He likes it not just for the taste but also the health benefits of the food's fermented vegetables.
On the Side – Video
We meet up with the Fung Brothers to feast on banchan at KJ Korean Tofu & BBQ, with a whopping 24 dishes, this place has one of the best spreads in all of Los Angeles! With kimchi being a staple banchan dish, we head to the Cosmos Kimchi factory to meet the family behind one of the largest kimchi manufacturers, and learn a little thing or two about fermentation.
WHAT ARE THE RED PLASTIC CUPS WITH PATTERNED HOLES IN THEM THAT SIT ON TOP OF THE VEGETABLES IN THE JARS?
They are kimchi pressor cups to help improve the freshness and taste of the product. Every jar comes topped with this feature, which was inspired by the traditional Korean method of using stones to keep kimchi submerged under their own juices as they were stored in traditional clay jars underground. Through this submersion, even fermentation is encouraged throughout, and oxidation, which impacts freshness and flavor, is prevented.
Open EveryDay
8AM – 4PM Weekdays