What's the Deal With Kimchi?
Nutritional Value
Kimchi offers different nutritional benefits based on the ingredients used and the level of fermentation. But in general, kimchi is a low-calorie, high-fiber packed with nutritional value. It is rich in vitamins A, B and C, as well as minerals such as calcium and iron. Research has also found that kimchi contains 17 different kinds of amino acids.
The nutrients and activities of the various microorganisms produced during fermentation are also beneficial to the human body. Did you know that well-fermented kimchi has significantly more lactic acid bacteria (lactobacillus) than yogurt? Probiotics have been show to help slow or reverse some diseases, improve bowel health and immunity, and aid in digestion. They also have anti-inflammatory properties and help in preventing certain kinds of cancers. In addition, having a good balance of gut bacteria and digestive enzymes helps you absorb more of the nutrients in the foods you eat.

The origin of kimchi dates back to more than 2,000 years ago, when Koreans began pickling vegetables as a way of preserving food, particularly during the hotter months. The earliest form of kimchi was nothing more than just salted vegetables. Gradually, people began to include other spices such as ginger, garlic, onions and red chili peppers to create different flavors. Over time as more vegetables and ingredients became available, kimchi evolved into what we eat today, a tasty and nutritious staple of the Korean diet. There are currently more than one hundred variations of kimchi, the most popular being napa cabbage kimchi.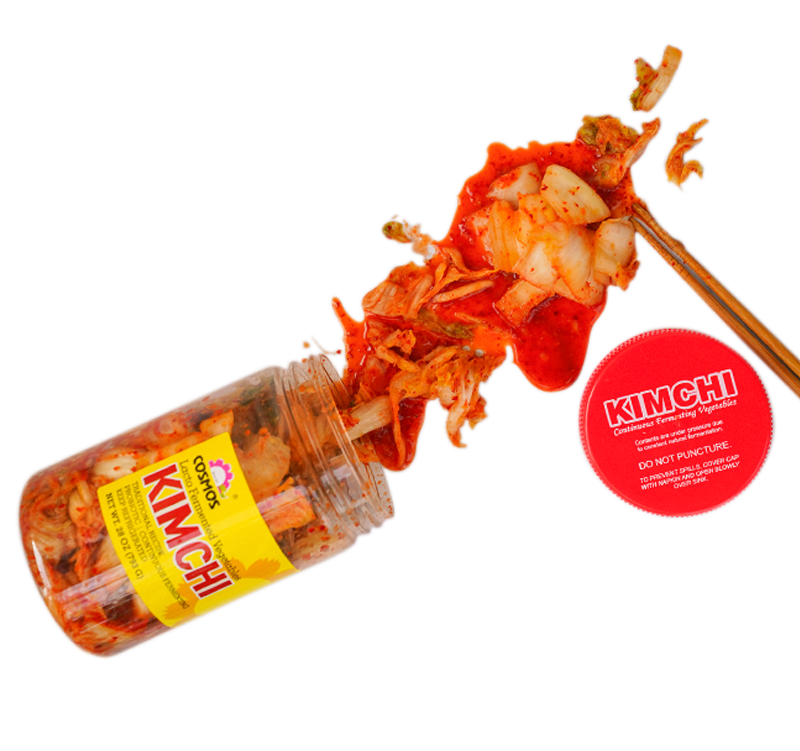 While Koreans consider kimchi to be the ultimate comfort food, other cultures have also learned to love the dish for its distinctive taste and myriad of health benefits from lacto-fermentation. A wonderful source of antioxidants, vitamins and probiotics, kimchi can be considered a superfood that your wallet will also love.
HOW DO YOU EAT KIMCHI?
Traditionally, kimchi is eaten as a side dish with rice at every meal. But kimchi is more than just a side dish. You can incorporate it in all kinds of cooking. For extremely ripe kimchi, you can make stew (kimchi jjigae), fried rice, tacos and sandwiches (using kimchi in lieu of pickles), kimchi pancakes and so on. Be creative. Kimchi has such a unique flavor that it can complement a lot of dishes.
WHAT ARE THE RED PLASTIC CUPS WITH PATTERNED HOLES IN THEM THAT SIT ON TOP OF THE VEGETABLES IN THE JARS?
They are kimchi pressor cups to help improve the freshness and taste of the product. Every jar comes topped with this feature, which was inspired by the traditional Korean method of using stones to keep kimchi submerged under their own juices as they were stored in traditional clay jars underground. Through this submersion, even fermentation is encouraged throughout, and oxidation, which impacts freshness and flavor, is prevented.
WHAT IS THE MEANING BEHIND THE COMPANY NAME, COSMOS?
Cosmos is the name of a type of semi-wild flower in the sunflower family that is extremely popular in Korea and ubiquitous in its fields and hills during its autumns. As a company, the name Cosmos represents our Korean roots and mission to share a ubiquitous part of Korean food culture!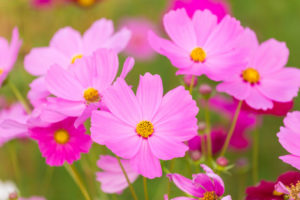 HOW LONG SHOULD YOU FERMENT KIMCHI?
It's really up to you. The question is, how do you like your kimchi? If you like it fresh, try our Ready-to-mix kimchi or purchase kimchi products that have a long expiration date. For the most part, determining the ripeness of kimchi is simple. After bringing the jar home, open it and take a whiff. Does it smell sour? Do the contents of the jar bubble when you jostle it? If so, then you already have some fermentation going on and only need to let the jar sit out in room temperature for a few hours. If it just smells like seasoned cabbage and doesn't bubble at all, you only need to let it sit out for a day or two to get a more satisfying sour flavor.
Kimchi, like anything else, will ferment faster in a warm environment. The key factor here is your personal taste. If you like your kimchi super sour, then let it ferment longer. If you like it more mild, limit the fermentation time to just a few hours. Once you are happy with the flavor, close the lid and put it in the fridge.
WHAT ARE THE HEALTH BENEFITS OF EATING KIMCHI?
Dubbed a Korean superfood, kimchi offers an array of amazing health benefits. Here is a detailed overview of them, which have won it recognition as a top five superfood by Health Magazine: 
10 Health Benefits of Kimchi
WHAT IS THE SHELF LIFE OF KIMCHI?
All of our products come with best if used by date marked on the jars. But the actual shelf life of kimchi depends on a variety of factors: Did you keep it refrigerated at the ideal temperature? Did you use your fingers or hands to scoop out kimchi or did you use clean utensils? Did you make sure that the lid was completely sealed after each use? All of this plays a factor in how long the kimchi will stay edible.
So does kimchi ever go bad? Technically, no, because some people really enjoy the over-fermented sour kimchi taste. Just remember, the longer it ferments, the more acidic it becomes – and subsequently the more sour it tastes. Even when you see a white fungus layer (technically called film yeast) on top, the kimchi is still ok to eat. It's a common effect seen with fermented foods. You can eat the rest of the kimchi after removing that white layer.
Open EveryDay
8AM – 4PM Weekdays