Prep time:
2 Hours 30 Minutes
Our Kimchi Fried Rice recipe is a great way to repurpose leftover rice and extra kimchi. The star of the show is our kimchi, but we also add umami-packed shiitake mushrooms and finish it with a sunny-side up egg to make a satisfying lunch or dinner. Also, the pork belly can be substituted for tofu or more mushrooms if you would like to make it vegetarian! Enjoy!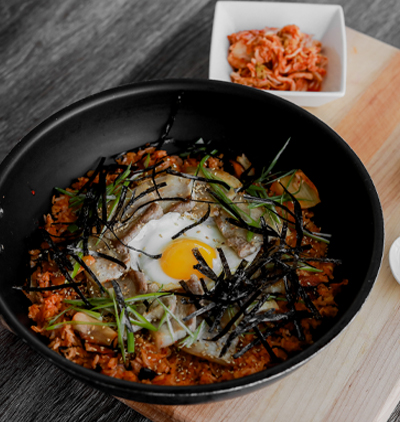 6 ounces pork belly, sliced into thick rectangles
5 ounces kimchi, cut into 1″ pieces
4 ounces shiitake mushrooms
3 cups steamed rice preferably

left over

1 large egg cooked sunnyside up
1/4 cup kimchi juice
2 tbsp gochujang
1 teaspoon sesame oil
Salt to taste
1 teaspoon sesame oil
2-3 green onions sliced at an angle (green ends only)
1/2 Sheet roasted seaweed, cut into 2″ strips
1. First, pre-heat a large non-stick pan to medium-high heat for 5 minutes. Once the pan is hot, carefully place each pork belly piece into the pan, making sure they are spaced out evenly. You may need to work in batches depending on the size of your pan!
2. After 2-3 minutes, flip the pork belly pieces over using tongs. They should look golden brown and some oil should start to collect in the pan.
3. As you finish searing each piece, lay them out onto paper towels to collect any extra oil.
4. Turn off the heat and carefully remove any pork fat from the pan into a heat-safe bowl.
5. Bring the pan back on to medium-high heat. Remove the stem from the shiitake mushrooms and slice the heads into ¼ inch thick pieces.
6. Then, cook them in the pan and collect any bits of pork with a wooden spoon. Season with a little salt and roast until they get a deep, golden brown color.
7. Add the kimchi and scrape up the bottom of the pan again. Cook for 1-2 minutes until everything begins to dry up.
8. Stir in the gochujang and sesame oil, toasting evenly and being careful not to burn. Add in the rice and kimchi juice, stirring to combine completely. Turn off the heat.
9. Flatten the rice evenly in the pan and fan the pork belly across. Cover with foil and hold while you cook the egg.
10. Once your egg is cooked, place them directly onto the rice with the pork belly. Garnish with sesame seeds, green onion and roasted seaweed.
Open EveryDay
8AM – 4PM Weekdays