When you think of Korean foods, what comes to mind? We would like to introduce you to Kimchi-Jjigae (stew), which is one of Korea's top two most popular dishes. This is a great one to accompany your rice based meals and generally tastes better when cooked with aged kimchi, which you can tell when your kimchi starts tasting very sour over time.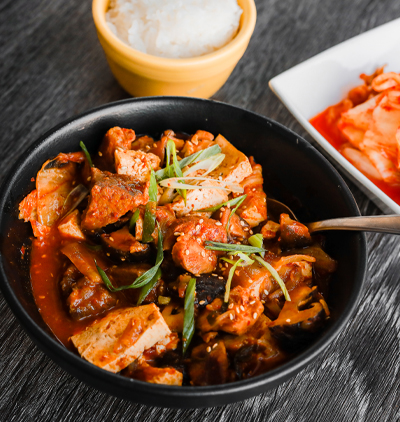 Anchovy Stock Ingredients:
8 ounces Korean radish, peeled
4 ounces yellow onion
2 ounces dried anchovies, cleaned
3 cups steamed rice preferably

left over

2 green onions, whites only
2 cloves of garlic, peeled
2 ounces of dried kelp
1 quart of water
1. To prepare the anchovy stock, cut the radish and onion into medium sized pieces. Cut the green onion stalks in half and smash the garlic a little to help release more flavor.
2. Make sure to use a pot no longer than 2 quarts so the liquid does not evaporate too quickly. Combine all ingredients in the pot and bring to a boil. Reduce to a simmer and set a timer for 20 minutes.
3. Turn off the heat and remove the anchovies. Let steep for 20 minutes then strain through a fine mesh sieve or colander lined with cheese cloth.
4. Cool in an ice bath and reserve in the refrigerator until ready to use.
Kimchi Jjigae Ingredients:
12 ounces kimchi, brine drained and reserved
2 ounces kimchi brine
8 ounces pork shoulder, sliced into 1/2″ pieces
1 yellow onion, cut into bite sized pieces
2 cups anchovy stock
½ container of firm tofu
4 ounces shiitake
1 stalk green onion, thinly sliced
Marinade Ingredients:
2 cloves garlic, minced
2 tablespoons gochujang
1 tablespoon gochugaru
1 tablespoon white sugar
1 teaspoon toasted sesame oil
½ teaspoon fish sauce
1. Drain the tofu and wrap with a few pieces of paper towel. Place on a plate and set a small pot on it to press out some of the liquid.
2. Combine the pork, onion, garlic, and mushrooms in the pot with the marinade ingredients. Let sit at room temperature for 30 minutes to an hour.
3. Add kimchi with the reserved brine and anchovy stock. Bring to a boil, then cover and reduce to a medium simmer for 20 minutes.
4. Remove the lid and add the tofu across the top. Cover and simmer on medium heat for another 10 minutes. If you want the stew thicker and richer, you can continue to simmer until it tastes perfect for you.
Garnish with green onions and serve with steamed rice.  
Notes:
-For this recipe, it is important to use a proper size pot that fits all of the ingredients well. If the pot is too large, the liquid will reduce too quickly. Something that holds 2-3 quarts is what you will need. If the broth does reduce too far, you can add stock or water to adjust it.
Open EveryDay
8AM – 4PM Weekdays