Our traditional napa cabbage kimchi fits great into recipes that need something sour or acidic to cut through other rich ingredients! For example, our Kimchi Reuben Sandwich recipe layers Glaze Corned Beef, Sweet and Spicy Dressing, and tangy chopped napa cabbage kimchi between slices of toasted rye bread.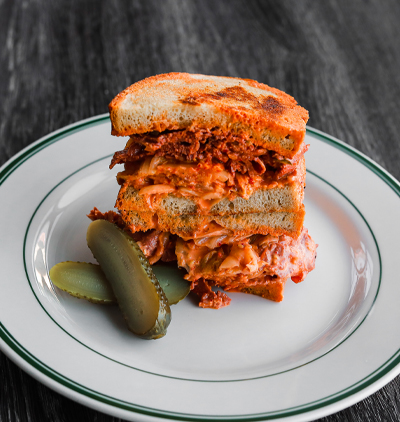 Sweet and Spicy Dressing:
¾ cup kewpie mayo
2 tablespoons gochujang
1 tablespoon ketchup
1 tablespoon honey
1 tablespoon rice vinegar
1 teaspoon soy sauce
1 tablespoon horseradish
2 tablespoons grated onion
1 tablespoon sweet pickles, diced
1 teaspoon toasted sesame seeds
¼ teaspoon salt, more to taste
¼ fresh cracked pepper
1. Stir to fully incorporate all ingredients in a bowl.
2. Cover with plastic or transfer to a plastic container with a lid.
3. Store in the refrigerator for up to 1 week.
Glazed Corned Beef:
12 ounces sliced corned beef
¼ yellow onion, sliced thin
1 small piece of ginger, grated
¼ cup gochujang
2 tablespoons sugar
2 tablespoons rice vinegar
1 tablespoon mirin
1 cup beef stock
Making the Reuben Sandwiches:
12 ounces glazed corned beef
8 slices light rye bread
4-6 ounces kimchi, cut into bite-sized pieces
Sweet and Spicy Dressing
Softened butter
Instructions:
1. First put the onions, ginger, sugar, rice vinegar and mirin into a small pot. Bring to a simmer and add the gochujang, stirring to combine.
2. Pour in the beef stock and simmer for about 10 minutes or until the glaze has thickened. Check the consistency with a spoon and continue simmering if necessary.
3. Pour the glaze over the warm corned beef and toss carefully with tongs.
4. Keep warm until ready to assemble the sandwiches.
Open EveryDay
8AM – 4PM Weekdays